Broadcast Film Critics Association Award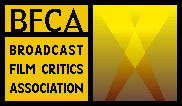 The Broadcast Film Critics Association Awards, or simply the Critics' Choice Awards, are bestowed annually by the Broadcast Film Critics Association to honor the finest in cinematic achievement.
Nominees are selected by written ballots in a week-long voting period, and are announced in December. The winners are revealed at the annual Critics' Choice Awards ceremony in January.
The awards are broadcast live on the VH1 television network. The 2007 and 2008 Awards were at the Santa Monica Civic Auditorium, the 2009 event – renamed The Critics' Choice Movie Awards – was at the refurbished historic Hollywood Palladium on January 15. Special awards are given out at the discretion of the BFCA Board of Directors.
. . . .
Broadcast Film Critics Association - 9220 Sunset Blvd, Ste 220, Los Angeles, CA 90069. Tel: (310) 860-2665, fax: (310) 860-2651, email: info@bfca.org
© Preems.com