United King Films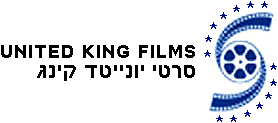 United King Films is an Israeli motion picture production and distribution company owned by Moshe and Leon Edery.
The company was founded in 1974 for production, distribution and marketing of Israeli and international films.
UKF is one of the leading film distributors in Israel. The company represents a number of major American and European production studios.
The company has a catalog of around 2,000 films, including Paul Haggis' 2006 Academy Award® winning "Crash," Roman Polanski's "The Pianist," Andrew Niccol's "Lord of War," George Clooney's "Good Night, and Good Luck," Brian De Palma's "The Black Dahlia," Woody Allen's "Scoop," and Robert Altman's "A Prairie Home Companion."
In recent years, UKF has established itself as the leading producer in the Israeli motion picture industry, producing approximately 10 films annually.
Among films that UKF has produced and distributed are some extremely successful films such as, "Turn Left at the End of the World," "Walk on Water," "Colombian Love," "Bonjour Monsieur Shlomi," "The Bubble," "Someone to Run With," and the 2006 blockbuster "Aviva My Love."
In 2007, UKF produced Joseph Cedar's "Beufort" (starring Oshri Cohen, Itay Turgeman and Itay Tiran), Avi Nesher's "Secrets" (starring Ania Buckstein, Michal Stempler, Fannie Arden and Donna Ivgi), Asaf Burstein's "The Debt" (starring Neta Garty, Gila Almagor and Itay Tiran ), Amos Kolek's "Restless" (starring Moshe Ivgi and Ran Danker), Haim Buzaglo's "The Honor" (starring Ze'ev Revach, Shmiel BenAri and Moran Atias), Arnon Tzadok's "Wild Dogs" (starring Ayelet Zorer, Lior Ashkenazi, Alon Aboutbul and Neta Garty), Menachem Golan's "The Wedding Contract" (starring Meir Swisa and Orly Weinerman), Eran Riklis' "The Lemon Tree" (starring Iam Abbas), Amos Gitai's "Disengagement" (starring Juliette Binoche and Yisrael Katorza), Reshef Levi's "Lost Islands," Asi Dayan's "Halfone Hill 2" (starring Shaike Levi, Yisrael Poliakov and Gavri Banai) among others.
10 years ago, UKF has acquired the classic movies such as "The Policeman Azoulai," "Halfone Hill Doesn't Answer," ""The Troupe," "Snail," "Snooker Party," "Charlie and a Half," "Alex is Sick of Love," "Salah Shabati," "He Walked in Fields," "The Big Dig," and others. To date, out of about 300 films, UKF has rejuvenated about 150 and released them on DVD.
In 2002, UKF built the Cinema City complex with 24 highest standard movie theaters in Israel. Since its opening, the Cinema City complex has become an entertainment center that attracts young and old alike, constituting 30% of the country's box office admissions.
The company also holds additional movie theaters such as Cinema Park and Cinema Raanan in the city of Raanana, Israel, Colony in the city of Herzlia, Israel, and the art house cinema theater in the Tel Aviv Museum.
UKF has the biggest DVD authoring studio in Israel. It also owns Globus United, the company that has DVD distribution agreements with leading American motion picture production studios such as Universal, Paramount, Fox, DreamWorks, and MGM among others.
In 2006, UKF bought a controlling stake in the music company NMC becoming one of the leading entertainment companies in Israel.
In 2006, UKF produced several local musical stage productions such as "The Producers" (at the Cameri Theater), "The Troupe," and "Like in the Movies" (at Habima, the Israeli national theater).
Filmography (list of selected films)
Distribution
Lost Islands (2008) / 2008 | Israel | all media
Kavod (2008) / 2007 | Israel | theatrical
Shine a Light (2008) / 2008 | Israel | all media, theatrical
The Life Before Her Eyes (2007) / 2008 | Israel | theatrical >>>>
Tian Tang Kou (2007) / 2007 | Israel | all media
Noodle (2007) / 2007 | Israel | all media
Kuaile Gongchang (2007) / 2008 | Israel | theatrical
A Londoni Férfi (2007) / 2008 | Israel | theatrical
Ploy (2007) / 2008 | Israel | theatrical
Malos Hábitos (2007) / 2008 | Israel | theatrical
Rikud Mesukan (2007) / 2006 | Israel | theatrical
Beaufort (2007) / 2007 | Israel | all media
Gun Chung (2007) / 2007 | Israel | all media
Aviva Ahuvati (2006) / 2006 | Israel | video
Mishehu Larutz Ito (2006) / 2006 | Israel | theatrical
Ha-Buah (2006) / 2006 | Israel | all media
Yamim shel Ahava (Days of Love) (2005) / 2005 | Israel | theatrical
Metallic Blues (2004) / 2004 | Israel | theatrical
Yogen (2004) / Israel
Atash (2004) / 2005 | Israel | theatrical
Sof ha-Olam Smola (2004)
The Wooden Camera (2003) / 2004
In the Cut (2003) / Israel
Janis et John (2003) / Israel
Les Sentiments (2003) / Israel
Bom Yeoreum Gaeul Gyeoul Geurigo Bom (2003) / 2004 | Israel | theatrical
Vozvrashcheniye (The Return) (2003) / Israel | theatrical
Kaena: La Prophétie (2003) / Israel
Depuis Qu'otar est Parti (2003) / Israel
Japanese Story (2003) / Israel
Père et Fils (2003) / Israel
Skagerrak (2003) / Israel
Petites Coupures (2003) / Israel
Kopps (2003) / Israel
Nói Albínói (2003) / Israel
Salmer Fra Kjøkkenet (2003) / Israel
Ha-Shiva me-Hodu (2002)
Kamchatka (Kamchata) (2002) / Israel
The Pianist (2002)
Respiro (2002) / Israel
All Or Nothing (2002) / Israel
Bend It Like Beckham (2002) / Israel
24 Hour Party People (2002) / Israel
Amen (2002) / Israel | theatrical
The Kid Stays in the Picture (2002) / Israel
Laissez-Passer (2002) / Israel
Last Orders (2001) / Israel | theatrical
Cet Amour-là (2001) / Israel
The Navigators (2001) / Israel
Lucky Break (2001)
Crush (2001)
The Emperor's New Clothes (2001)
The Others (2001)
Sen-to Chihiro-no Kamikakushi (2001) / 2003 | Israel | theatrical
Human Nature (2001) / 2002 | Israel | theatrical
Mulholland Dr. (2001)
Safar-e Ghandehar (2001)
La Stanza del Figlio (2001)
Intimacy (2001)
Making of 'The Last Patrol' (2000) (V) / 2001 | Israel | DVD
The Weight of Water (2000) / Israel
Liam (2000)
Before Night Falls (2000) / 2001 | Israel | theatrical
Der Krieger und die Kaiserin (2000)
The Man Who Cried (2000) / Israel | theatrical
The Art of War (2000) / 2001 | Israel | theatrical
Last Resort (2000)
Mua He Chieu Thang Dung (2000)
Cecil B. DeMented (2000) / Israel
The Last Patrol (2000) / video
Le Goût des Autres (2000) / Israel
The Whole Nine Yards (2000) / Israel
The Filth and the Fury (2000)
Things You Can Tell Just by Looking at Her (2000) / Israel
Gohatto (1999) / Israel
Body Shots (1999) / Israel
Simpatico (1999) / Israel
Une Liaison Pornographique (1999) / 2000 | Israel | theatrical
With Or Without You (1999) / Israel
The Straight Story (1999) / Israel
Ça Commence Aujourd'hui (1999) / Israel
Love Is the Devil: Study for a Portrait of Francis Bacon (1998) / Israel
Los Amantes del Círculo Polar (1998) / 1999 | Israel | theatrical
My Son the Fanatic (1997) / Israel
Nettoyage à Sec (1997) / Israel | theatrical
La Promesse (1996) / Israel
Blood Simple (1984) / 2000 | Israel | theatrical
Apocalypse Now (1979) / 2001 | Israel | theatrical
Production
Untitled Gad Beck Biopic (2009)
Kavod (The Honor) (2008)
Beaufort (2007)
Secrets (2007)
The Debt (2007)
Restless (2007)
Wild Dogs (2007)
The Wedding Contract (2007)
The Lemon Tree (2007)
Disengagement (2007)
Lost Islands (2007)
Halfone Hill 2 (2007)
Free Zone (2005)
Walk on Water (2004)
Ha-Shiva me-Hodu (2002)
© Preems.com