Producers Guild of America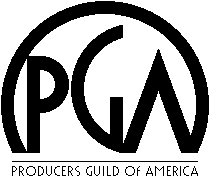 Producers Guild of America is a trade organization representing around 4,000 television producers, film producers and New Media producers. The guild provides seminars, programs and special screenings, and offers some benefits to its members.
The PGA started as two separate organizations, with the Screen Producers Guild being formed in 1950. Its first president was William Perlberg.
In 1957, some of television producers formed the Television Producers Guild with Ben Brady as its first president.
In 1962, the Screen Producers Guild and the Television Producers Guild merged to create the Producers Guild of America.
In 1983, a group of associate producers of videotape television formed the American Association of Producers (AAP). Gayle Maffeo was the first president.
In 2001, the PGA merged with the American Association of Producers (AAP) enabling the guild to represent all members of the producing team; and PGA East office was established in New York.
In 2002, the guild formed its New Media Council in order to better represent producers working in emerging media such as Internet entertainment, interactive television, DVDs and console games.
Producing Team
Executive Producers
Producers
Co-Executive Producers
Supervising Producers
Senior Producers
Line Producers
Co-Producers
Associate Producers
Segment Producers
Field Producers
Story Producers
Production Managers
Visual Effects Producers, Supervisors, & Coordinators
Post-Production Supervisors & Managers
Production & Post-Production Coordinators
The PGA Councils
The Producers Council (representing producers, executive producers and co-producers)
The AP Council (representing associate producers, production managers, production supervisors, segment and field producers, production coordinators, visual effects producers and post-production staff)
The New Media Council
The most important event of the guild is the PGA Awards. The PGA Awards was originally established in 1990 as the Golden Laurel Awards. The annual ceremony has been hosted by presenters including Ronald Reagan, Ted Turner, Garry Marshall, Robert Guillaume, Nick Clooney, Jack Lemmon, James Earl Jones, Grant Tinker, Michael Douglas, Walter Matthau, Shirley MacLaine, Marlo Thomas and others.
. . . .
Producers Guild of America, Inc. - 8530 Wilshire Blvd, Ste 450, Beverly Hills, CA 90211. Email: info@producersguild.org
Events, committee info, screenings: Kyle Katz - kyle@producersguild.org
Qualification criteria, membership applications: Bryce Averitt - bryce@producersguild.org
Press inquiries: Chris Green - chris@producersguild.org
Lara Schoenhals, Sponsorship Manager - lara@producersguild.org
Executive Coordinator: Jo-Ann West - joann@producersguild.org
New York office / PGA East - 100 Avenue of the Americas, Room 12-40, New York, NY 10013. Email: pga-ny@producersguild.org
Mitzie Rothzeid, Director, PGA East - mrothzeid@producersguild.org
Patrick Gerety, Office Manager - pgerety@producersguild.org
PGA East Chair: John Hadity - jhadity@producersguild.org
PGA East Vice Chair: Dana Kuznetzkoff - dkuznetzkoff@producersguild.org
PGA East Vice Chair: Mark Marabella - mmarabella@producersguild.org
San Francisco office: Amy Jacobson Kurokawa, PGA SF Chair - amy@producersguild.org
© Preems.com